GCSE Results
21 August 2014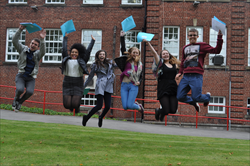 University Academy Birkenhead, is delighted to announce that it is celebrating after defying dramatic syllabus and exam changes to record a significant increase in GCSE results for the second year running.
We have seen GCSE English passes (A*-C) increase by ten percentage points as well as securing a 4% increase in its GCSE Maths passes. This latest milestone follows a significant gain in higher level passes last year and sees UAB continuing to stand out as one of the most improved secondary schools in Wirral.
During the latest school year the former Education Secretary Michael Gove made wide ranging changes to the structure of GCSE's that not only made them tougher to pass but saw changes being imposed mid-way through students' courses.
I am so proud of our students, for coping so well with such significant changes throughout their studies, and I also thank the whole staff for their exceptional work in helping our students reach their potential.
While there will undoubtedly follow much debate about how schools are judged and how fair comparisons can be made, I am pleased to say that UAB has once again secured its best ever results which will mean that more young people in Birkenhead than ever before will be able to progress into work, College and eventually University.