Students take a trip to Neverland with Gary Starr Pantomimes
Students take a trip to Neverland with Gary Starr Pantomimes
16 December 2019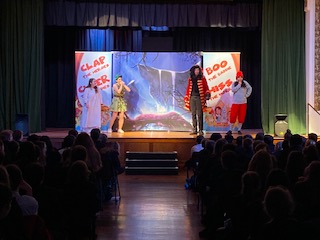 Year 7 and Year 8 students had an early Christmas treat last week when Gary Starr Pantomimes brought 'Peter Pan' to school.
The live theatre performance which took place in the school hall allowed the students to experience first-hand some of the techniques they have been learning about in their Drama lessons, live on the stage.
During the show the actors encouraged students and teachers to participate and interact with the characters.
Year 7 student, Alfie, said: "The pantomime was a lot of fun and everybody joined in with the interaction. My favourite part was seeing Mrs Kirwan on stage."
For some students this was their first time watching a live theatre show and supports their overall Character development and understanding of British values.